Do It Yourself Remedies with no known cases of overdose. ?
Now is a great time to plan for planting seeds, primarily those you can harvest throughout the season and enjoy.
We found this great resource; www.marysheirloomseeds.com.   My SEED choices are below except the burdock, dandelion and stinging nettles, they are found nearby.  Only colorful flowers to plant that also attract the bees, birds and flutterbies.
Wild Bergamot   Also known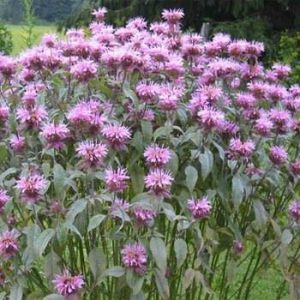 as Mint Leaf Bee Balm this perennial is an upright growing plant which spreads out. It has a lovely lavender blossom and distinctively aromatic foliage. Its sweet nectar is a favorite of butterflies, bees and hummingbirds. Mint Leaf Bee Balm is native to eastern North America and the plains, and it is easy to grow from flower seeds and it multiplies quickly.
Monarda Fistulosa Bergamot can be found naturally along riverbanks and enjoys this rich, organic, moist soil. However, it will grow in average soil as well. Full sun is best, but light shade is tolerated. Mintleaf Bee Balm plants tend to spread more quickly in the shade. Most Monarda herbs multiply rapidly either by underground stems or freely sowing their own flower seed. In order to keep plants healthy and vigorous, they should be divided at least every three years in the spring. Deadheading spent blooms will prolong the bloom time. Powdery mildew is a common fungal problem with Wild Bergamot herb plants. To prevent this fungus from appearing, large clumps should be thinned out so that the air circulates freely around them. The soil should also be kept consistently moist; dry soil promotes powdery mildew.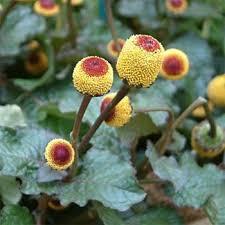 JUST FOR FUN!
The Toothache Plant has reddish-green foliage and tight, compact little pompom flowers that have no petals. The flowers are yellow with a red center, and they resemble an eyeball, so the herb plant is also commonly referred to as Eyeball Plant and Para Cress.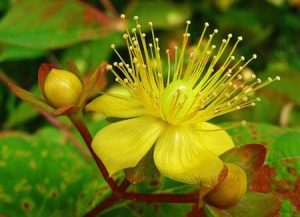 St. John's Wort  As an herb plant, the oil in the leaves have been used topically for wounds, sunburns, and general aches and pains. St John's Wort herb has also been used to treat mild depression and insomnia with some success. St. John's Wort ground cover is often used to cover areas along side walks and driveways.
How To Grow Hypericum From Seed: St. John's Wort seeds are easy to grow. Plant the herb seeds indoors 6 – 8 weeks before the last frost, or outside after danger of frost has passed. Press the Hypericum seeds into the soil, but do not cover it as the seed will germinate better with light. Transplant the Hypericum seedlings when they are 2 – 3 inches tall. The plants will tolerate most any soil conditions but prefer moist and light soils. Fertilizer is only necessary in the poorest of soils, and water in prolonged drought times.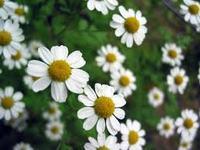 Chamomile has a very pleasant fragrance and was a popular strewing herb in medieval England. Graceful plants are 12–20″ tall with endless masses of 1″ Beautiful small flowers, makes a relaxing tea with a sweet fruity fragrance.
Also medicinal.
Tip:  Sow seeds indoors on surface of soil. Transplant outdoors in early spring just before last frost. Chamomile prefers well-drained sandy soil and self-sows freely.

Skullcap is an attractive ornamental herb with erect stems of bluish-purple blooms that arrive in the latter part of spring. The Skullcap herb plant reaches about 14 inches in height and the same in width. It makes a great addition to the front of the herb garden and gives a lovely display! The herb is also known as Chinese Skullcap and Baical Skullcap.    
Growing Skullcap: Skullcap seeds can be started indoors 6 – 8 weeks before the last frost, or directly start the herb seeds outdoors once danger of frost has passed. Skullcap herb plants prefer light, well-draining soil and a position in full sun to partial shade. After 3 – 4 years of growth, the Skullcap root can be harvested in the autumn and dried for later use.
THESE are easy to find NATURALLY.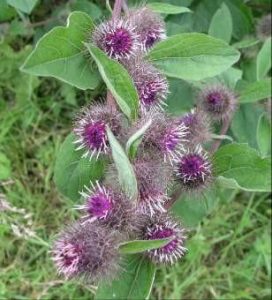 Great Burdock.  A robust biennial herb plant grown from herb seeds with long-stalked leaves. The Great Burdock herb is a nutritious vegetable and medicinal herb used as a remedy for measles, arthritis, tonsillitis, viruses like colds, throat pain, and as a diuretic. In modern times, Burdock is also used in oncology and to treat many other serious health problems. Great Burdock plant stalks are cooked like celery. The Burdock root is eaten raw or cooked like parsnips. Great Burdock herb seeds can be sprouted.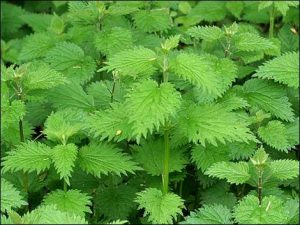 Stinging Nettle is found growing all across North America and especially in moist, forested soil. If you have experienced the pain of a Stinging Nettle plant, wisdom would tell you to avoid it. But, this perennial, often grown from herb seeds, is used as a medicinal herb, and it is used in the kitchen as well where cooking will remove the stinging effect of the leaves. It is considered to be more nutritious in iron than spinach. For the best flavor and nutrition, harvest only the top 4 – 5 inches of the Stinging Nettle plant. Harvest before the plant flowers.
Stinging Nettle herb plants have a long history as a medicinal herb. During medieval times it was used as a diuretic, to treat joint pain, and muscle pain. Today, Stinging Nettle root is used by some to treat urinary problems related to an enlarged prostate, and some use it for the relief of arthritis pain.
We hope YOU too consider planting natural beauty and color and healing into your spring and summer.  And next fall we will harvest what we can and create tinctures and decoctions.  Have a Blessed weekend.  Jesus is our Passover, through Him we are saved from Death. By Faith. And Knowing WHO Jesus is, therefore Repent.  Be Baptized of the Holy Spirit.
2 Corinthians 5:15-18